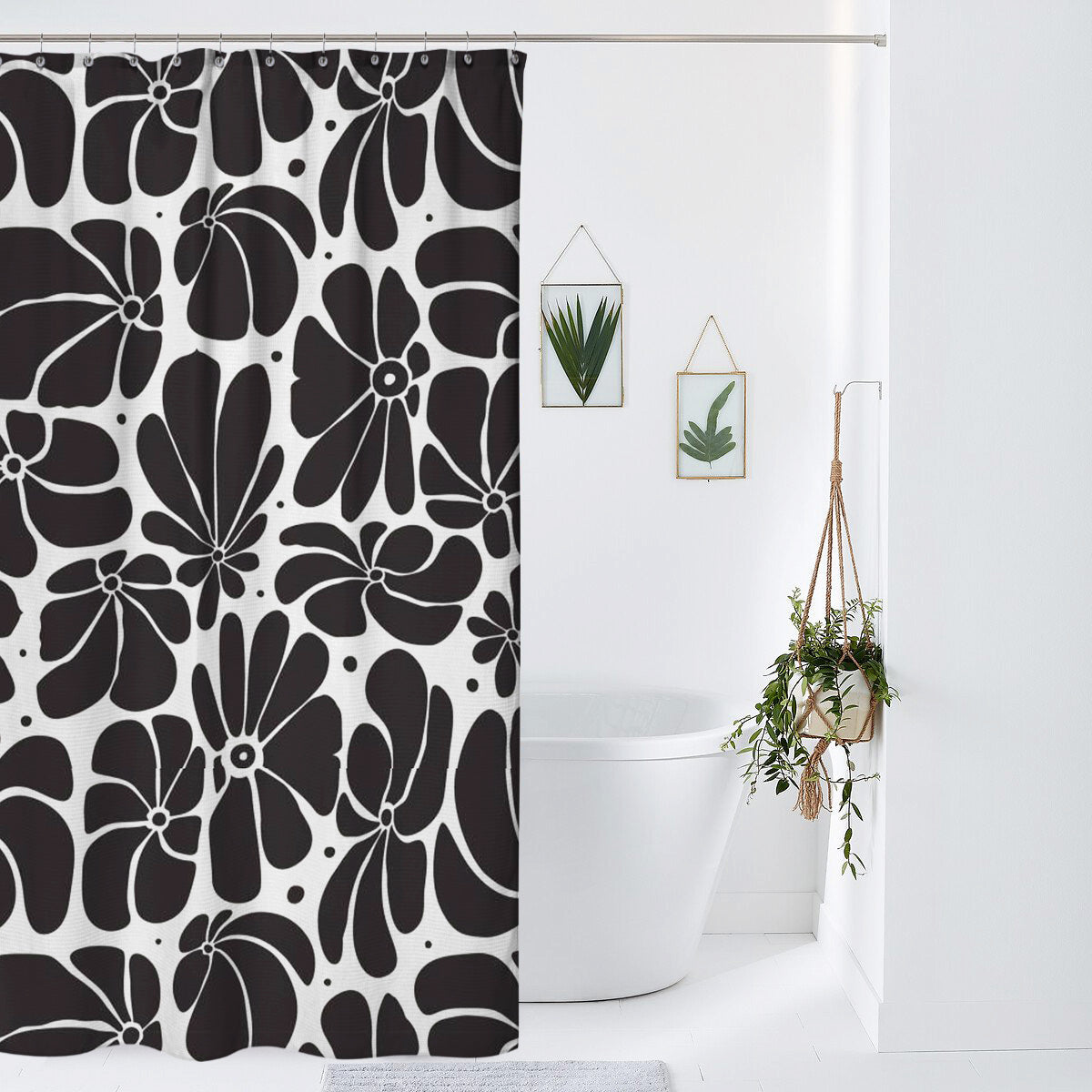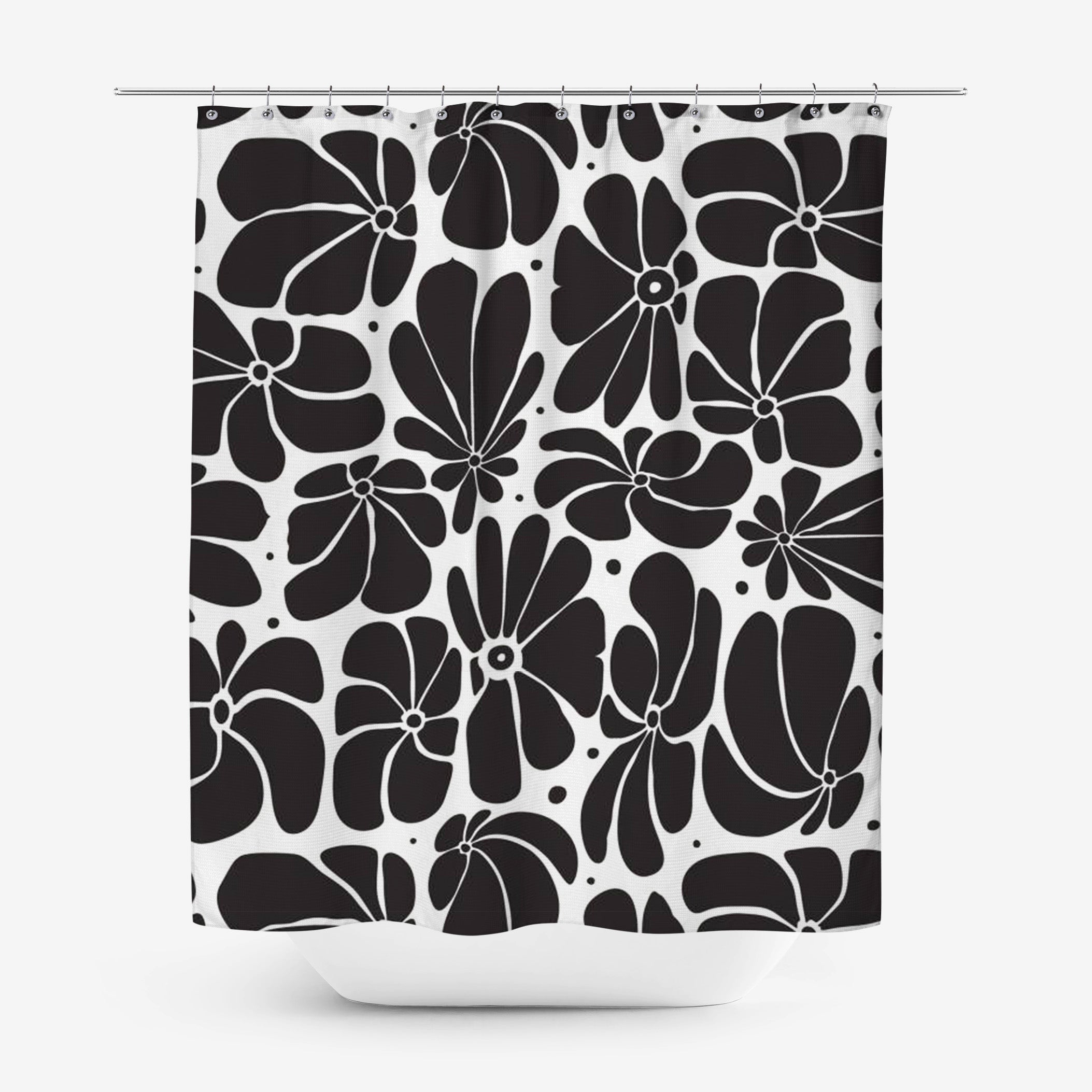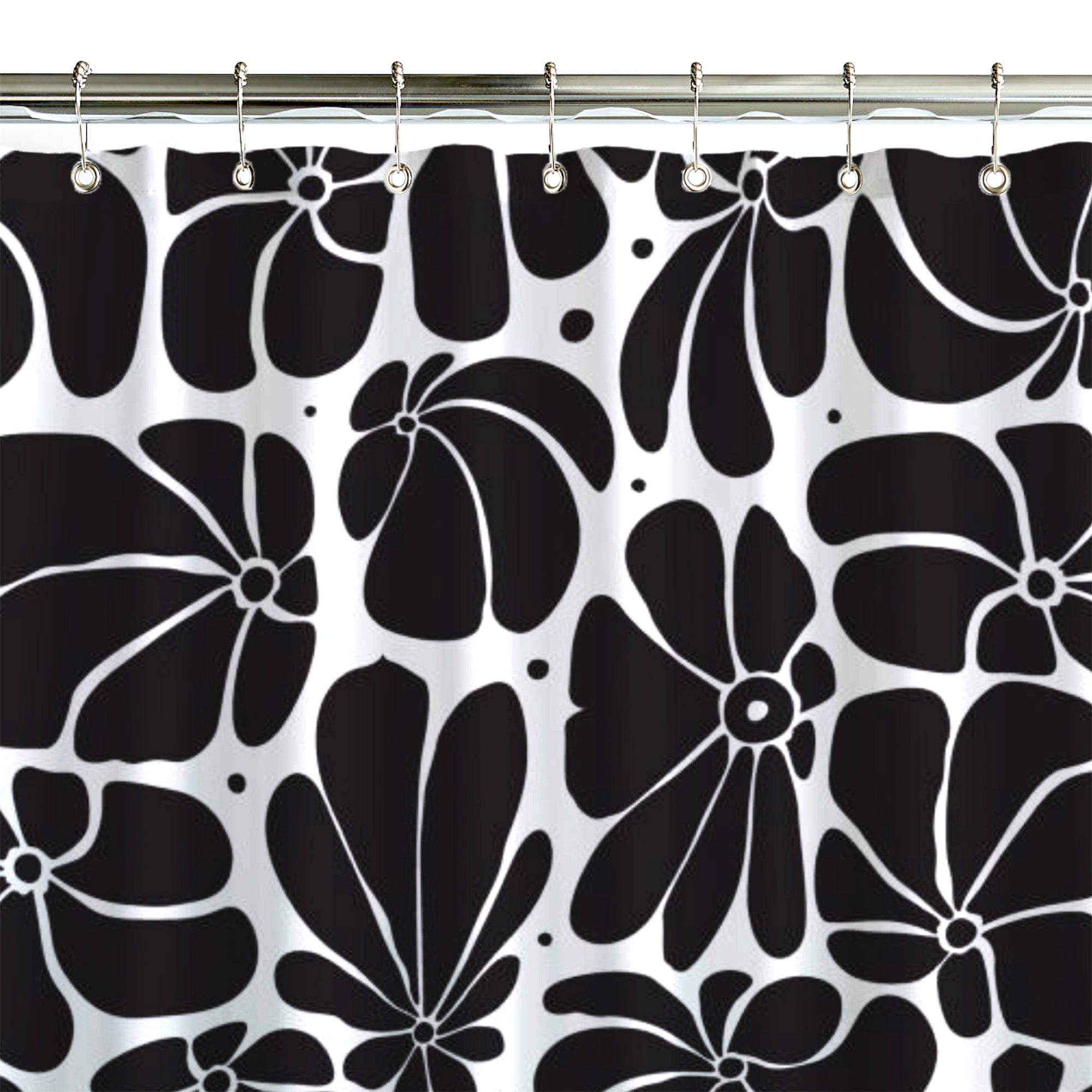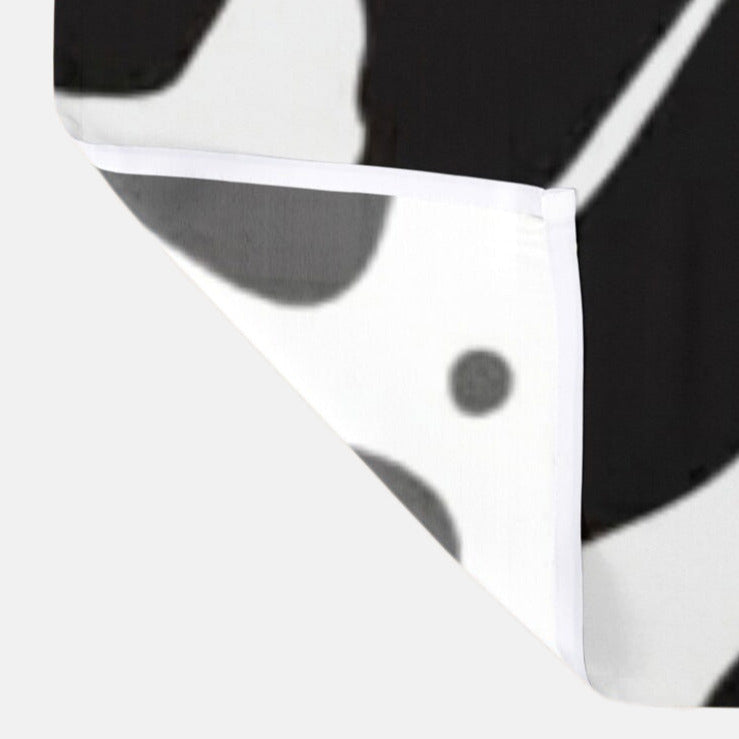 Abstract Black White Retro 70s Floral Shower Curtain BLOSSOM
$54.00
Regular price
$60.00
Buy it by December 7th and receive it with FREE Express Shipping!
Description
The charm of the quintessential floral theme, the BLOSSOM black and white pattern shower curtain is inspired by the harmony and good vibes of flowering.
Features
• Made of durable premium polyester fabric cloth that is smooth to the touch and elegant in its drape. The thick, opaque fabric provides a good privacy when bathing.
• A quick-drying waterproof layer prevents water splashing outside the thub.
• Featuring an original art design on the front with a white reverse and rustproof eyelets on top to accommodate any type of hook for easy hanging.
• Available in multi sizes of widths and lengths to fit all types of showers and tubs. The most common standard size is 72x72 inches with 12 eyelets on top.

• Machine washable.
---
Free shipping on orders over $99
Fast delivery with FedEx Express at checkout
Contact us for a free consultation regarding custom made drapery, custom size, custom fabric design and printing, textiles & furnishings.
Abstract Black White Retro 70s Floral Shower Curtain BLOSSOM
$54.00
Regular price
$60.00
Product Details

Features

• Heavy waterpoof fabric shower curtain
• 100% Polyester, ethically produced
• Water repellent / No extra coating needed
• Thick enough for privacy protection
• Rust-proof metal eyelet holes for easy hanging
• Machine washable

Size

34"W x 71"L / 90cm x 180cm
47"W x 71"L / 120cm x 180cm
60"W x 71"L / 150cm x 180cm
65"W x 71"L / 165cm x 180cm
71"W x 71"L / 180cm x 180cm
65"W x 79"L / 165cm x 200cm
71"W x 79"L / 180cm x 200cm
71"W x 86"L / 180cm x 220cm

Care

Machine wash cold, gentle cycle, no soaking, no bleaching. No dryer, air dry only. Iron at low temperature if needed.
Shipping & Returns

Shipping

How much is shipping?

We offer Free Standard Worldwide shipping on all orders over $99.

For orders under $99, delivery will cost $4.90 with Standard shipping or from $14.90 with FedEx Express shipping.

How long will my order take?

Delivery: Processing time + Shipping time 

(excluding weekends, holidays, customs delays and unforeseen circumstances)

Processing: 5-8 business days

Standard Shipping: 8-12 business days

Express Shipping: 3-5 business days

Order tracking

Each shipment is traceable using a tracking number which is assigned when the order is processed. For any information about your package, please track it using the link provided by email.

Returns

100% Quality Guarantee

The return of our products is accepted within 30 days from the order date if the item is damaged or with manufacturing defects. Due to the made-to-order manufacturing process, we are unable to offer returns for any other reasons.

If there are any problems with your order please contact us and we will find the right solution.
FAQ

Are the colors exactly as shown in the photos?

Many screens don't have good color calibration. This means the colors may very depending on the monitor you are using. Slight differences in color between your monitor and the printed product are bound to vary slightly and can occur, we do not consider this a manufacturing error.

Can I order custom sizes?

We can make customized width and length measurements for window curtains, shower curtains, bedding sets, tablecloths. To request customization, just contact us via email info@shapesdecor.com or via chat and one of our experts will assist you by sending you a customized list for purchase.

Are window curtains completely blackout?

Our blackout curtains block out 80%-95% of light, provide great insulation, are the most common type of blackout sold on the market. Great idea for rooms where a light blockage is desired. Blackout lining is perfect all year round, keeping your home warm in the winter and cool through the summer months. They are ideal for living rooms and bedrooms.

What size should I take of shower curtain?

In the listing there are 8 shower curtain sizes, which can be used for different types of showers and bathtubs. The most common standard size of shower curtain is 71"x71", this size will fit over the liner and has 12 holes at the top.

Is an extra lining needed for shower curtains?

Our shower curtains are made of high quality fabric with the latest waterproof coating technology, making them completely waterproof but still soft to the touch. The tightly woven, durable fabric protects the curtain from soaking and keeps floors free from splashes. The 150gsm opaque polyester provides a good layer of privacy when bathing.

Do the products come with a guarantee?

Our textile products are an exceptional piece of craftsmanship and come with a 10 year guarantee on the permanent print quality, fabric quality and the stitching finish.

How do I calculate the curtain size?

How wide?

1. Measure the width of each window, including molding or trim if you want the curtains to cover them.

2. Determine the number of panels you need to order:

~ Multiply window width by 1.5 to 2 if you want curtains loosely gathered for a relaxed, tailored look. Divide your total by the width of a single curtain panel to get the number of panels you need.

~ Multiply window width by 2.5 to 3 if you want curtains tightly gathered for a full, luxurious look. Divide your total by the width of a single curtain panel to get the number of panels you need.

How long?

1. For a classic look, your curtain rod should be mounted 4" above the window opening, so measure from 4" above the window opening to approximately 1/2" above the floor to get curtain length. 

2. If you want your curtains to create a grand "puddle" on the floor, add 6" to 8" to the length.

3. To create the impression of greater height in the room, position the rod 2" to 3" below the ceiling. Remember, this approach will likely expose the top edge of the window opening and some of the wall above it -- if you want them covered, position the rod at the standard height (see #1).


Rods & finials:

Rod width should be 5" more than the width of the window. Add the length of two finials to rod width to get the total amount of space required.

About our curtain dimensions:

WIDTH: The width refers to a single curtain panel.

LENGTH: The length is the distance from the top of the pocket or grommets to the bottom of the hem.

Your satisfaction, our goal!
Reasons to love Shapes Decor
PERSONALITY
Express yourself in your own way
CREATIVITY
Have fun and be inspired
SUSTAINABILITY
Buy small and take care of our planet
INNOVATION & QUALITY
Trust our textile design experts